Thursday, September 7, 2023

Last week we were in a very carnivorous restaurant and this week it's time to change gears, so we looked for a vegetarian restaurant, an arduous task in Extremadura, a region where almost all the vegan and vegetarian restaurants that have opened have ended up closing. Only one resists, in Mérida, it is called Shangri-La, it is located on a strategic street, which connects the Roman Theater with the Temple of Diana, and as soon as we enter it, we see that it is in good health: it is full and in its Several rooms, decorated in a cheerful and informal way, with racial, cultural, oriental motifs, etc., a relaxed, fun and satisfied atmosphere reigns. There are even older customers who eat here regularly and the service, dynamic, efficient, educational, casual and fast, contributes to the good atmosphere.
But what is the reason why this Emeritus restaurant is the only vegetarian restaurant that resists in Extremadura? Ready to check it out, we sat down at a large wooden table. Pleasant piano music plays, the tableware is informal from Amphora, the cutlery (Comas) and glassware are adequate and the placemats and napkins are paper. They bring us some pickles to entertain us and we see that the wine list is short (21 references), but the offer by the glass is extensive (five reds and seven whites). On the contrary, the tea and infusions menu is overwhelming: 45 possibilities and the beers (12) and coffee (11) are not bad.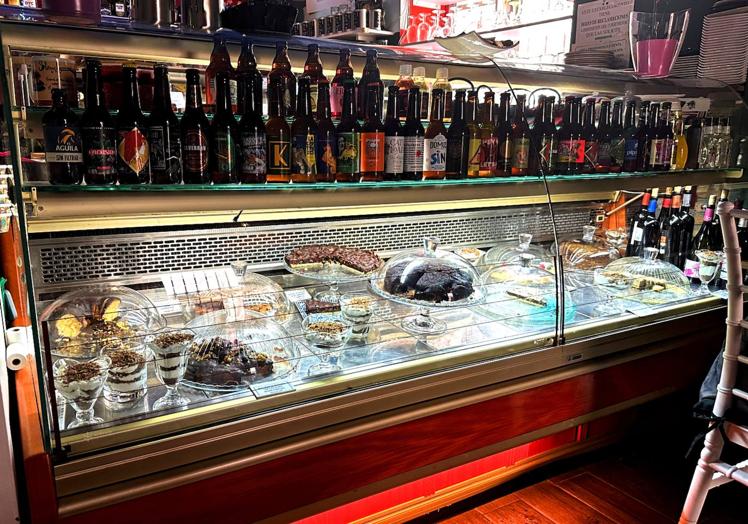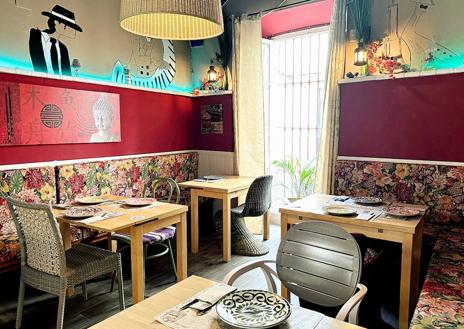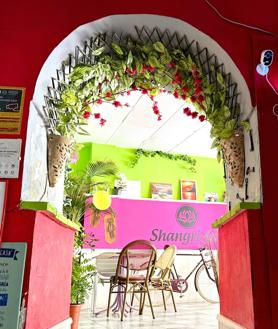 The bread is quinoa, good, different, well selected… And an interesting and very practical detail: you can order half portions of almost all the dishes, but be careful! They are large half portions, so much so that the maitre'd advises reducing the orders, so we select four stockings, a full portion and two cakes and we will be absolutely satisfied.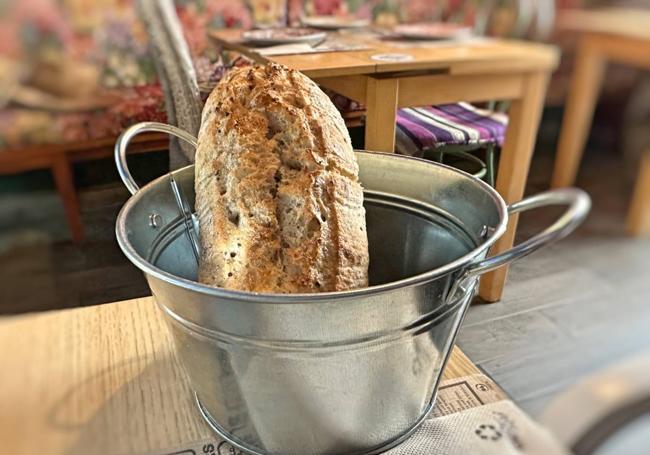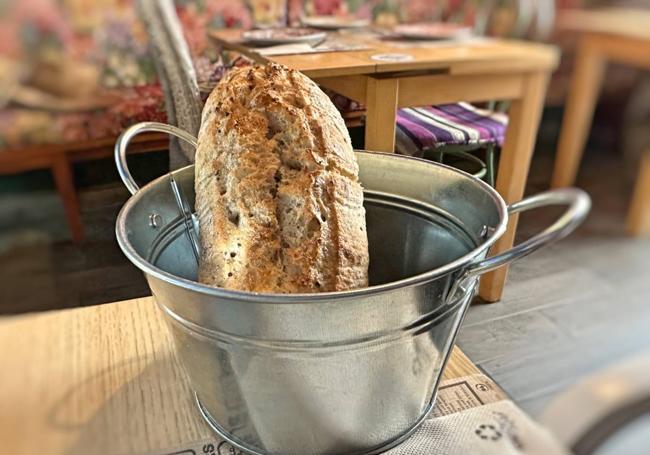 On the menu, various types of salad, nachos, quesadillas, cannelloni, crepes, burritos, croquettes, lasagna, stuffed mushrooms, cheeses, rice noodles and everything, of course, with vegetables: eggplants, potatoes, tomatoes, onions, green sprouts, beans, avocado, peppers, ratatouille, carrots without missing nuts, mushrooms or seitan. Outside of the menu, they always have interesting dishes such as an original salmorejo, gyozas or salads other than the standard ones.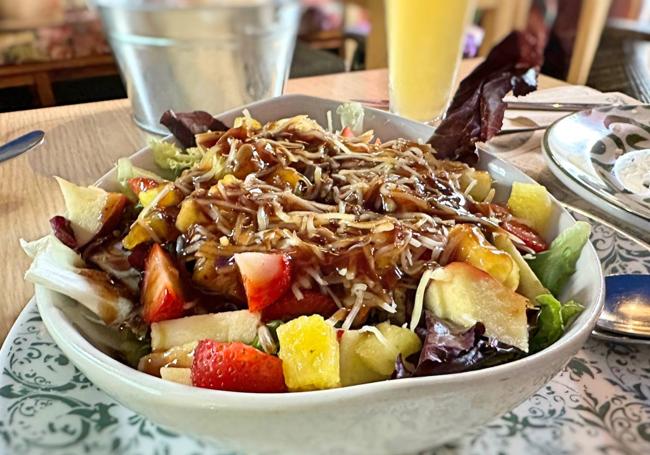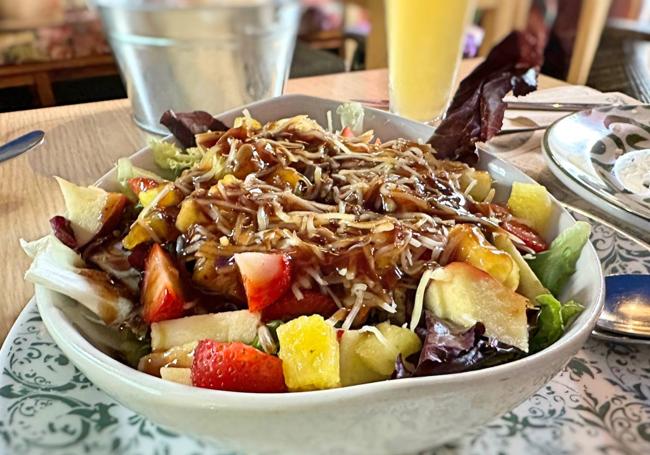 We start with half a Tina salad in which green sprouts, strawberries, pineapple, apple, peeled seeds, Havarti cheese and strawberry vinaigrette are mixed. It is a very pleasant and balanced symphony of freshness and contrasts. We continue with half a portion of tabbouleh, in which the couscous is enlivened by vegetables, mint, quinoa and lime juice. After the suggestive salad, this mixture is boring and with fewer nuances. We moved on to a half portion of mushroom croquettes (3) with a carrot sauce. They are original and not very creamy, a consistent, almost solid mass, a spicy touch and a matter of taste: to the photographer, showered in vegetarian experiences, they seemed perfect and honest and a server, more vulgar and omnivorous, resorted to the impossible comparison : "They are not like my mother's."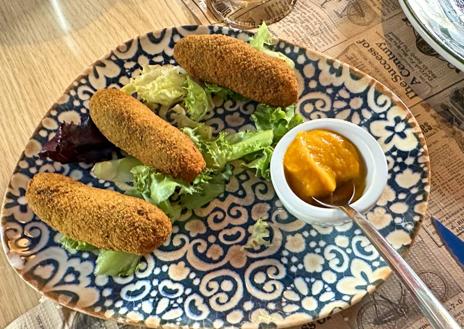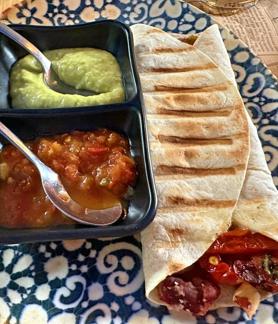 The burritos with red beans sautéed with pineapple, pepper, cheese with guacamole and tasty sauces that were somewhat spicy, but not over the top, were delicious and surprising. The contrasts between the dishes are convincing and show that it is in good vegetarian cuisine where the most intense, different and convincing flavors are achieved. They had recommended moussaka to us and we ordered it: a dish that was as filling as it was mild in flavor. It is eaten with pleasure, although it may have too much potato and not enough eggplant.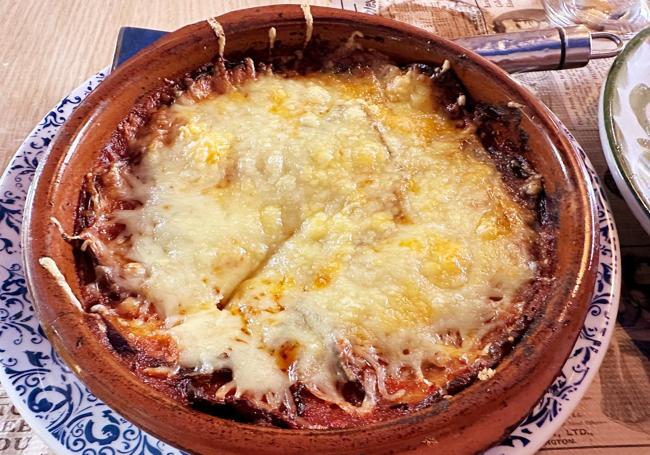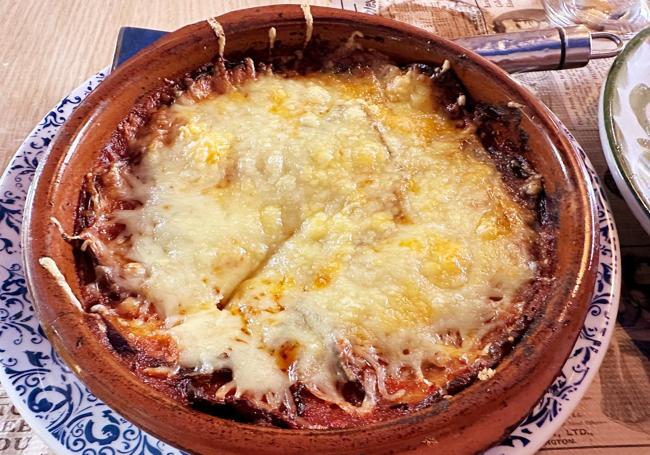 Shangri-La's pies are famous. We tried the black beer one, very fine, elegant, with just the right sweetness, and the carrot one, less exciting, not spongy at all. A high-school cappuccino with cinnamon, Florentine, Roman or Venetian terrace style, but at Mérida prices, and a very well-served purifying tea with ice completed a pleasant meal, full of contrasts and flavors, very entertaining and clarifying: it shows why Shangri -La is a tough restaurant, a convincing vegetarian one that's worth it.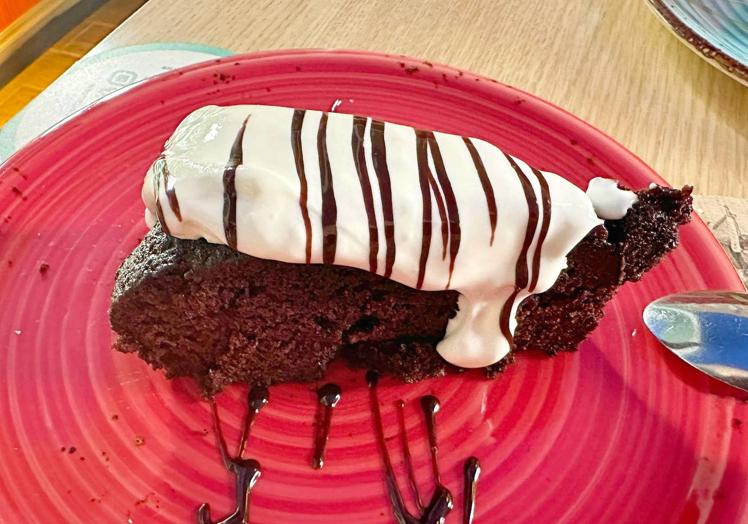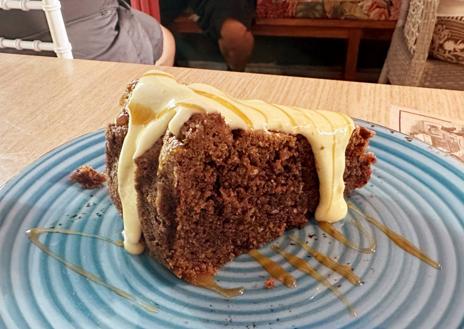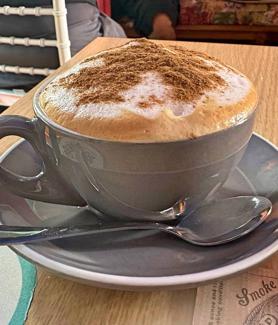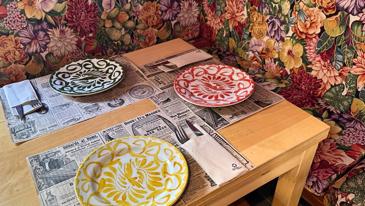 Address
Sagasta Street, 21

Location
Merida

Time
Closed Monday and Tuesday. Wednesday to Sunday 13-16 and 20-24

Telephone
636 752 837

Terrace
No
judi bola online sbobet sbobet sbobet88